Don't use 'amniotic fluid' eye drops, FDA warns
"Amniotic fluid" eye drops aren't approved and could be harmful, the Food and Drug Administration warned.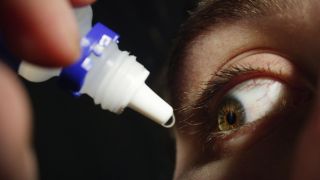 (Image credit: UniversalImagesGroup / Contributor via Getty Images)
People should not use eye drops marketed as if they contain amniotic fluid, the fluid that surrounds and cushions a developing fetus in the womb, the Food and Drug Administration (FDA) has warned. The sale of these eye drops, none of which have been approved by the FDA, raises "potential significant safety concerns," the agency wrote in a statement (opens in new tab) issued April 10.
As no eye drops of this description have been FDA-approved, any such eye drops would need to be prescribed under an investigational new drug (IND) application. In addition, the patient would have to sign a consent form acknowledging that the product was used under an IND application. However, the FDA's public safety notification was prompted by products being sold directly to consumers online, according to the agency's statement.
"As these products are not FDA-approved, the agency does not have information about their manufacture, and there are no assurances that the products are safe and effective for any disease or condition," the FDA notice reads.
In late 2022, before sending out its recent safety notice, the drug-regulating agency sent two warning letters to "manufacturers marketing amniotic fluid eyedrops": one to Regener-Eyes (opens in new tab), which makes an eye drop product of the same name, and M2 Biologics (opens in new tab), which makes a product called StimulEyes. Both products were marketed as treatments for dry eye disease.
Related: Eye drops recalled after CDC links them to vision loss, 1 death
The FDA's letters don't specifically mention amniotic fluid in their main text, but they do note that Regener-Eyes was marketed as containing "placental-derived biomaterials" and that StimulEyes was listed as a "regenerative medicine." Regener-Eyes also previously had a webpage (opens in new tab) featuring studies of amniotic fluid and "amniotic derived therapies," Ars Technica reported (opens in new tab) April 20.
(Based on the FDA safety notice and letters, as well as the companies' websites, it's unclear whether either manufacturer has made any claims about where the amniotic fluid was sourced. In addition, the FDA didn't note whether it's run tests to see if the drops actually contain amniotic fluid.)
If the eye drops truly contained amniotic fluid, they would likely have "hundreds of different fetal proteins and other substances, which don't [necessarily] just do helpful things, so there are definite risks," Paul Knoepfler (opens in new tab), a professor of cell biology and human anatomy at the University of California, Davis, told MedPage Today (opens in new tab). There could also be a risk of infection beyond the eye, if the products were to reach the bloodstream, he said.
In early pregnancy, amniotic fluid contains a mix of fluids and proteins produced by the fetal tissue and pregnant person's body. In late pregnancy, the fluid contains mostly fetal urine and "lung secretions," according to the medical resource StatPearls (opens in new tab).
So, why put amniotic fluid in eye drops? Amniotic fluid and the amniotic membrane, the innermost layer of the placenta, contain stem cells, so some researchers have proposed (opens in new tab) that the fluid and tissue could have regenerative properties that would be useful in various medical applications, including as treatments for certain eye conditions, Ars Technica reported. However, only one clinical trial has tested amniotic fluid eye drops — in the trial, scientists tested whether the drops could help hasten patients' recovery after a type of laser eye surgery, but they found the product to be ineffective.
In its recent notice, the FDA asked consumers and health care providers to report any negative side effects or reactions related to the use of amniotic fluid eye drops to the MedWatch Adverse Event Reporting program (opens in new tab).
Stay up to date on the latest science news by signing up for our Essentials newsletter.
Nicoletta Lanese is the health channel editor at Live Science and was previously a news editor and staff writer at the site. She holds a graduate certificate in science communication from UC Santa Cruz and degrees in neuroscience and dance from the University of Florida. Her work has appeared in The Scientist, Science News, the Mercury News, Mongabay and Stanford Medicine Magazine, among other outlets. Based in NYC, she also remains heavily involved in dance and performs in local choreographers' work.