Best VR headsets 2023: Enter virtual reality to unwind, learn, or play
Game, exercise, and experience the world like never before with the best VR headsets of 2023.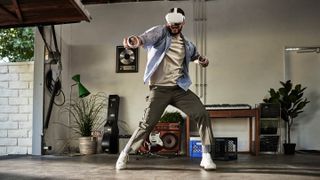 (Image credit: Meta)
VR headsets have come a long way from the clunky, blurry and oversized technology we saw in the 2010s. With new high-spec headsets launching on a regular basis, each with their unique features, finding the best VR headset for you has never been easier.
While the current wave of virtual reality has created a bold new avenue for gaming, that is not the only reason to explore this technological phenomenon. There's a whole world of immersive VR experiences available that can revolutionize everything from your workflow to how you relax or even the way you break a sweat when working out.
To help you make the right choice, we've put these headsets through their paces to test how good they are for gaming, fitness, work, mindfulness & relaxation, and more. We looked at the hardware and the software on offer so whatever you're looking at VR for, you can make the right choice.
With more headsets in the works, we'll keep updating this list, so be sure to check in for all the updates on what's new in the VR space. And, if you're looking to grab a bargain on the way, check out our best VR headset deals.
Best overall
Portable VR power at an affordable price
Specifications
Platforms:
Oculus Store (standalone, and via PC)
Resolution:
1832 x 1920 per eye
Field of view:
90 degrees
Controllers:
Meta Touch / Xbox Series S/X controllers
Reasons to buy
+
Easy to set up and use
+
Affordable
+
Great games both wirelessly and with a PC
Reasons to avoid
-
There are sharper screens out there
The Meta Quest 2 has been around in some way, shape, or form since 2020 – and it's barely changed at all. Sure, it went from being called the Oculus Quest 2 to its new moniker when Facebook changed its branding, and it got new storage options (it now starts at 128GB instead of 64GB), but that's about it.
And yet, it remains the easiest headset to recommend. That's partially down to price – Meta raised the headset cost by $100, but it's still cheaper than many of the best VR headsets out there, and includes everything you need in the box.
The other big plus, and one that we're surprised Meta doesn't talk about more often, is the ability to plug the Quest 2 into your snazzy gaming PC and have it essentially pass the complex VR stuff onto your rig. The outcome? Playing highly-rated PC VR titles through your Meta Quest 2 without shelling out for a headset twice the price.
If you're curious about VR, the Meta Quest 2 is the place to start, with a wealth of excellent games and apps within the headset's own storefront and no need to plug it into a PC – but a lot more flexibility if you do further down the line.
Best premium
The premium VR package to buy
Specifications
Resolution:
1440 × 1600 per eye
Field of view:
130 degrees
Controllers:
Valve Index Controllers, HTC Vive, and Vive Pro Controllers
Reasons to buy
+
Intuitive VR 'Knuckle' controllers
+
Excellent viewing angles and refresh rate
+
Immersive audio
Reasons to avoid
-
Expensive
-
No wireless options
The Valve Index hasn't got the highest resolution screen on this list, but in almost every other aspect (price allowing), it's the premium PC-connected VR headset experience to beat.
With a supersmooth 144Hz refresh rate and wide 130 degree field of view, the Valve Index offers truly immersive virtual reality. Though bulky, its headset is comfortable for long play sessions, its tracking capabilities are spot on (even if its set up process is a bit more involved than we'd like it to be) and its controllers are simply sublime. The so-called 'Knuckles' not only feature buttons and motion tracking, but are designed in such a way as to leave your fingers free, with finger-tracking elements allowing you to use your hands as you would naturally interact within a digital world. It's marvellous.
It has a couple of issues we'd like to see ironed out for a successor. Firstly, we'd be happy to lose a little motion tracking accuracy in favour of an inside-out tracking system that would let us do away with the finicky external base stations. We'd also be keen to see Valve offer some form of wireless play, too, as the Index requires many cables to run.
But once you've got those Knuckles on and have your free, bundled-in copy of Half Life: Alyx (the very best VR game) running, all those grumbles fade away. If you can afford it, and have the PC to pair it with, the Valve Index is the most impressive VR hardware you can enjoy today.
Best for high-resolution
Super high-resolution VR
Specifications
Resolution:
2448 × 2448 per eye
Field of view:
120 degrees
Controllers:
HTC Vive and Vive Pro Controllers
Reasons to buy
+
Super sharp display
+
Wide field of view
If you're after the last word in virtual reality screen quality – without resorting to spending literal thousands on niche research or commercial devices – the HTC Vive Pro 2 is the VR headset for you. Offering a gigantic 5K combined resolution for its screens, and throwing in a fast refresh rate and wide viewing angle to boot, if this list was based solely on headset quality, it'd be the winner. We're talking about a screen so good sometimes to be close to just looking through a window to the real world outside – and all within a comfortable, if bulky, headset too, one that can accommodate glasses wearers and includes a physical IPD slider.
But it's not the complete package. The HTC-branded controllers it works with are terribly aged at this point, being large, heavy, wand-like things (if you can find the Valve Knuckles sold separately anywhere they will be compatible as well, however), and it suffers from the same tethered limitations that the Valve Index shares with its cables and base stations. It can also get quite hot near the screen which, considering the resolution it's running at and the power required to get it ticking along smoothly, is somewhat inevitable.
Factor in a truly eye-watering price for the complete bundle package, and the overall components don't quite match what Valve is offering. If, however, you can get the headset by itself at a more bargainous price, mixing and matching with Valve's controllers would make this very close to the ultimate PC VR experience. Shop around…
Best value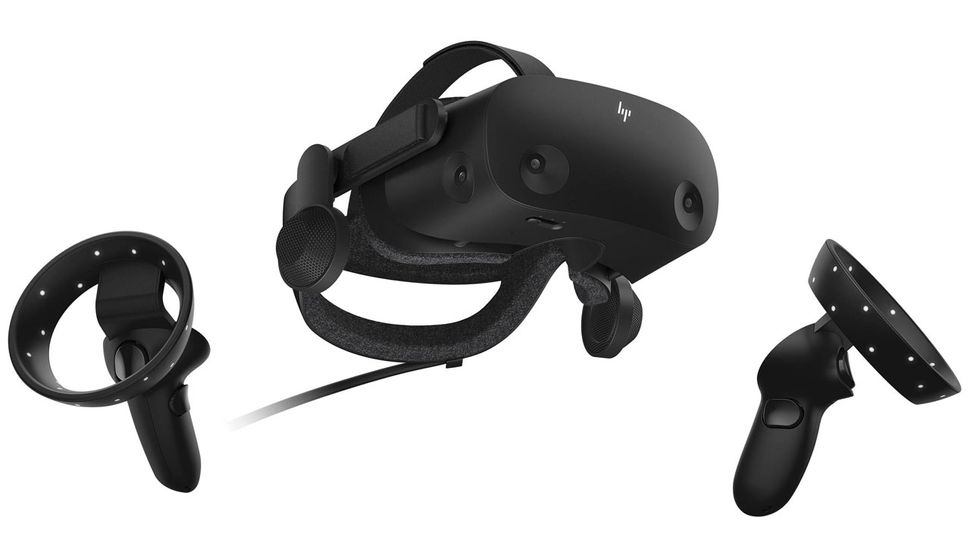 Great price-to-spec ratio
Specifications
Resolution:
2160 x 2160 per eye
Field of view:
114 degrees
Controllers:
HP Reverb G2 Controllers
Reasons to buy
+
High resolution screen
+
Good value for the specs on offer
Reasons to avoid
-
Tracking could be better
-
Would benefit from higher refresh rate
Pop the HP Reverb G2 over your head and you'll be immediately dazzled by its super-sharp display. While not a cheap headset, it's relatively affordable, given just how clear its display is, even if its refresh rate isn't quite as smooth as some of the competition.
That affordability however does ignore the fact that controllers for the HP Reverb G2 are sold separately, and that you'll need a capable PC in order to power that screen to its highest capabilities.
It's a mixed bag then. On one hand you've got a physical IPD slider to ensure the most comfortable position for the lenses in front of your eyes, but it's also another restrictively tethered headset, connecting to a computer over cabling. It's open nature to PC VR platforms means there's a great array of applications open to it, but its tracking isn't quite as reliable as some of the other options on the list.
The HP Reverb G2 then stands as a great option if you can't quite afford the HTC Vive Pro 2, but it's a little behind the pack in a few too many areas to top this list.
Best for customization
A solid PC VR alternative
Specifications
Resolution:
1440 x 1700 per eye
Field of view:
110 degrees
Controllers:
HTC Vive and Vive Pro Controllers
Reasons to buy
+
Decent screens
+
Good tracking
Reasons to avoid
-
Expensive for its capabilities
-
Ageing controllers
The next step down the list of HTC VR gear, the Cosmos Elite is a capable – if uninspiring – virtual reality headset.
It's very similar to the original HTC Cosmos, but the Elite favors the more accurate base station tracking solution than the Quest-like inside-out camera tracking of the original Cosmos. It's quite a heavy headset at about 2lbs in weight, but HTC does well to make it feel comfortable with plenty of ergonomic fit adjustment points and a flip-up front display for quickly getting a view again into the real world.
However, similar problems found with the HTC Vive Pro 2 rear their heads here, but without the benefit of the super screen of the Vive Pro 2 to soften the blow. It's still quite an expensive headset, its controllers are showing their age, and the many-cabled set up is both finicky and restrictive. The Cosmos Elite can still wow, but it's best only approached if you find it at a bargain price.
Best console VR
A great gaming machine with stunning visuals.
Specifications
Platforms:
PlayStation Store
Resolution:
2000 x 2040 per eye
Field of view:
Approx. 110 degrees
Refresh rate:
Up to 120 Hz
Controllers:
PSVR 2 Sense Controllers
Reasons to buy
+
Entrancing haptic feedback
+
Ultra high-fidelity lenses
Reasons to avoid
-
Limited games and app library
-
Only works with PS5
The PSVR2 is a hefty update to Sony's original foray into virtual reality. The addition of stunning hardware updates paired with an easy-to-use interface makes the PSVR2 an excellent option for VR Veterans or first-time virtual reality users.
The headset is packed with plenty of comfort features like soft pads to help with weight distribution and multiple dials and buttons that can be tweaked to find your perfect fit. A small fan in the headset also keeps things cool, which is great for workouts and high-intensity gaming. And, getting lost in the action is easier than ever, thanks to haptic feedback in the controllers and PSVR2's headset rumble system.
If you're looking for professional apps, it's important to note that the PSVR2's library is smaller than others on the market and is currently geared more towards games than productivity apps. If you're looking for something with access to productivity right away, other PC VR headsets may be a better choice.
Best for professionals
VR built with the professional in mind.
Specifications
Platforms:
Oculus Store (standalone, and via PC)
Resolution:
1800 x 1920 per eye
Field of view:
106 degrees
Controllers:
Meta Quest Touch Pro Controllers
Reasons to buy
+
Standalone device (no PC required)
+
Comfortable to wear
+
Eye and face tracking tech
Reasons to avoid
-
Expensive
-
Not aimed at average consumer
While Meta Quest 2 is easy to recommend for just about anyone, we have to admit it's harder to find a use case for the Meta Quest Pro.
That's not to say it's a bad headset, but the starting price of $1500 is a tough pill to swallow for such a relatively new ecosystem (you could buy a few Meta Quest 2 headsets for that).
It's a little more focused on the professional VR user, and if you need to ask what one of those is then there's a good chance it's not for you.
The Meta Quest Pro offers resizable displays and is vastly more comfortable than its cheaper brother. It also looks very sleek in black, with a charging dock included in the box so it's always ready to go.
As Meta (the company) continues to work towards the goal of making the Metaverse more accessible, it feels like the Meta Quest Pro will be the place where we see plenty of experimentation. If that sounds good, jump in to be on the cutting edge of VR tech. If not, it's hard to look past the Meta Quest 2.
Best for comfort
Premium VR designed with comfort in mind.
Specifications
Platforms:
Viveverse / Steam VR
Resolution:
1920 x 1920 per eye
Field of view:
Up to 110 degrees
Controllers:
Vive XR Controllers
Reasons to buy
+
Light and very portable
+
High-resolution screen
+
Premium build and feel
Reasons to avoid
-
Expensive - you can get more bang for your buck elsewhere
They say good things come in small packages, and that's certainly true of the HTC Vive XR Elite. This powerhouse fits a lot into its small and nimble frame, meaning you can take it anywhere and not feel like you're compromising on specs.
Built with freedom in mind, the headset is completely standalone with no cables or plugs to worry about, something that's complemented by its pass-through camera, which is perfect for when you need to interact with the real world in the middle of a VR experience. Although it succeeds as a portable headset, its compact design and middling range of comfort options may cause issues for some users. Hence, it's worth checking the technical measurements against yourself before jumping in.
The Vive XR Elite includes an audio solution in the form of two speakers built into the band which delivers a clean, clear sound when used across its sizable library of PCVR games and apps. If you're after a VR headset that's grab and go, the Vive XR Elite is a great option; however, if you're looking for a more static, holistic setup for home, other premium headsets on the market may offer more for the price.
Best travel VR headset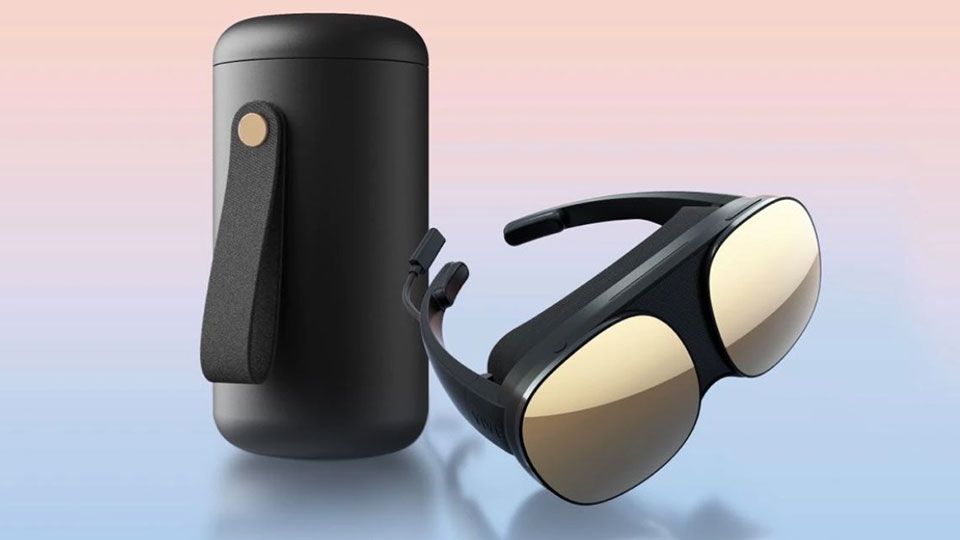 A unique, if limited, VR headset
Specifications
Platforms:
Viveport / Android
Resolution:
1600 x 1600 per eye
Field of view:
100 degrees
Controllers:
Requires Android smartphone
Reasons to buy
+
Good quality screens
+
Very portable
Reasons to avoid
-
Smartphone controls
-
Expensive for what's on offer
An attempt to take a bite out of the Meta / Oculus Quest pie, the Vive Flow is an intriguing, if flawed VR device.
It's supremely portable, weighing just 6.7 ounces, but it manages that by making some considerable compromises – to get more than five minutes battery life out of the headset you're going to need to hook it up to an external battery pack, for instance. There aren't even controllers or hand tracking available to the device either – you'll need to use a paired (Android-only) smartphone with the Vive Flow to browse its store and control its experiences.
Despite a high-resolution screen (at a low refresh rate, however), HTC isn't billing this as an Oculus or Index killer though – rather, it's hoping its portability will let owners take advantage of it on trips away to watch videos and take part in mindfulness and wellness activities, rather than high end gaming sessions.
That'd be a reasonable idea were it not for the price. What the Vive Flow offers in portability, it can't justify its limited use cases against its comparatively high asking price. Thumbs up for its forward-thinking lightweight design, but look elsewhere for pretty much everything else.
Stay up to date on the latest science news by signing up for our Essentials newsletter.
Gerald is a freelance writer and the executive editor for our sister site, TechRadar, where he covers entertainment, VR, gaming, and tech. He was previously the editor of Gizmodo UK and is the author of 'Get Technology: Upgrade Your Future,' a book looking at the impact of our most important technological developments in the modern world. Gerald has a bachelor's degree in English from Goldsmiths, University of London.